Edit: Transcript available at http://bit.ly/1vC3avm
More Than Memes: How Do #medlibs Use Twitter for Collaboration?
Thursday, October 16, 2014
9pm Eastern/6pm Pacific
Host: Cait Ford (@library_cait)
Co-host: David Tolmie (@dtolmie)
If you're reading this, chances are pretty good that you're familiar with the microblogging social media platform Twitter. Twitter allows you to share with the world your thoughts, hopes, dreams, gripes, foibles, pictures of your cat, and anything else you can fit into 140 characters. With all the good and bad that can come with the use of social media, something great that has grabbed interest is the use of Twitter (in addition to other formats) to seek out, find and share ideas with like-minded folk – like us
#medlibs
.
Join us on Thursday night to chat about how you use Twitter in your professional life, and how it's facilitated the flow of ideas between medical librarians across the world.
Caitlyn (call her Cait, please) Ford (MLIS) is an Information Specialist at the Canadian Agency for Drugs and Technologies in Health in Ottawa, Canada where she spends most of her time crafting literature search strategies. She is encouraged by her managers to engage with others and foster knowledge exchange and collaboration with colleagues by sharing resources, tips, tricks and keeping tabs on emerging technologies by using her
personal Twitter account
, as well as the
organization's account
. David Tolmie (MLIS) is an academic librarian at Bastyr University in Seattle with a keen interest in all things technology. He and Cait met via Twitter when she used the #medlibs hashtag asking why PubMed was throwing a fit; and a few months (and Tweets about boardgames and baking) later, they're collaborating on the chat!
Topics potentially covered in this chat: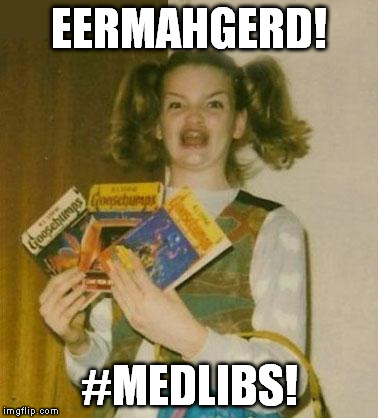 Why did you start using Twitter as an information professional?
Do you have more than one account?
Do you Tweet mainly about library, science or your other professional activities? Or do you have a mix of professional and personal Tweets?
Do you Tweet from your own account, or make use of your organizations account (if one exists)?
Why did you start to follow/ use the #medlibs hashtag? (eg.: share articles of interest, share tips/tricks, crowd-source a tough ref Qs, etc)
Have you ever collaborated with another #medlib you met via Twitter on a project? (eg.: help with a difficult search; write an article, poster, presentation, etc.)
Do you see Twitter as a space for collaboration among information professionals?
Did you ever think you'd meet so many other great medical librarians through social media?